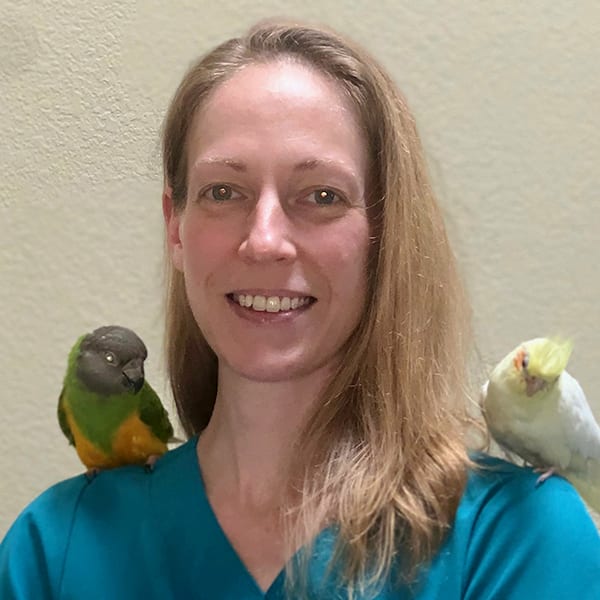 Dr. Tino Luehman
Dr. Tino Luehman graduated from VMRCVM and became Certified in Western Medicine Acupuncture in 2014. She is extremely interested in exotic animal rescue, and in Maryland worked with numerous rescues over the last 20 years fostering and rehabilitating exotic animals with medical issues, and the occasional cat or dog. She especially enjoys working with exotics with neurologic or balance issues and seeing how acupuncture / laser / and herbal therapy can help them regain or maintain function.
Initially, Dr. Luehman was training to become a wildlife rehabilitator and was hoping to work for the USDA monitoring endangered species using GIS mapping techniques. That was, until she discovered her brain had a malfunctioning chip that would not let her be on computers for more than an hour or two at a time. At the same time as this discovery, she unfortunately had to drive multiple times to reach emergency and exotic vets that could treat her birds when they became acutely ill and were dying of an unknown issue – losing 9 of her 13 birds in the space of a week. This combination of things, along with a few others, spurred her to change career paths and to pursue a degree in veterinary medicine to provide after hours care for exotics.
Dr. Luehman currently lives with her math- brained-geeky-IT husband providing foster and longterm care for a herd of buns and some flocks of birds with longterm medical issues. In her non-existent spare time they play Eurogames and strategy games – all card or board, of course, and take the occasional hike with a few birds in tow.