Our Berkeley staff surgeons and boarded surgeons offer a wide range of surgeries, including  soft tissue surgery, orthopedic surgery, tibial tuberosity advancement, c-sections and more.
Veterinary Surgery
Our staff and boarded surgeons offer a wide range of surgical care for Berkeley pets at Berkeley Dog & Cat Hospital, using advanced surgical techniques and carefully following safety protocols. 
During each surgery we conduct, a dedicated nurse will administer anesthesia to your pet and continuously monitor them using advanced patient monitoring equipment. We will also provide your pet with pain management care. 
We will always provide your with post-operative instructions and pain management once a surgery is complete. Your vet will walk you through your at-home care instructions and answer any questions you may have.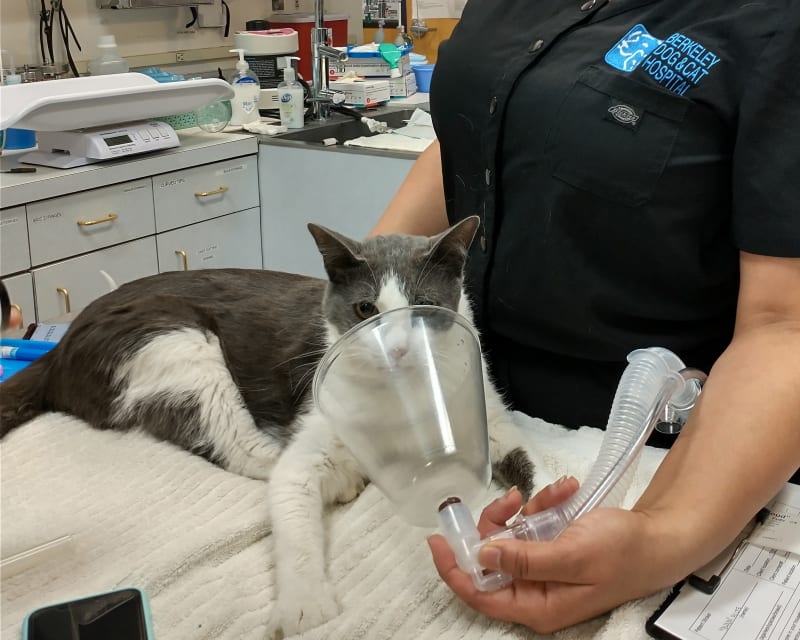 What to Expect from Surgery
We will always keep you fully informed not only of what is involved in a surgery we will be conducting on your beloved pet, but also the exact reason that your vet believes it to be the best treatment option. We will be sure to walk you carefully through any post-operative care you will need to provide your companion once they are home, and we are careful to follow strict safety protocols all throughout a surgery.
Surgical Procedures
Our vets at Berkeley Dog & Cat Hospital routinely perform the following elective and non-elective surgeries:
The Surgery Process
The idea of bringing your pet in for surgery can be an anxiety-inducing one. We want to assure you, however, that we only recommend surgery when it is in the best interests of your pet.
We will make surer that you understand why we have recommended surgical care for your pet and what the surgery will involve. We want to help you be informed and comfortable making the decision. 
Surgical protocols at our clinic include:
Pre-surgical assessments. We will confirm the specifics of the surgery with you, complete a physical exam of your pet and make sure that it will be safe to administer anesthesia to your pet.
Dedicated surgical suites. Surgeries are performed in a dedicated surgical suite. This is a room that is kept sterile and clean to avoid any cross-contamination.
Surgical attire. Our staff wear disposable caps and masks at all times when they are in the surgical suite. Staff members involved in the surgery will also wear single use gloves and sterile gowns.
Sterile packs and equipment. We carefully clean, sterilize and wrap our surgical instruments and equipment prior to every surgery.
Post-Operative Care
After your pet has received surgical care, one of our vets will walk you through any post-operative care your pet will need once they are able to return home. We will walk you through any special care, medicine, or pain management your pet will require over the course of their recovery, so you can rest assured that your pet will be as comfortable as possible.