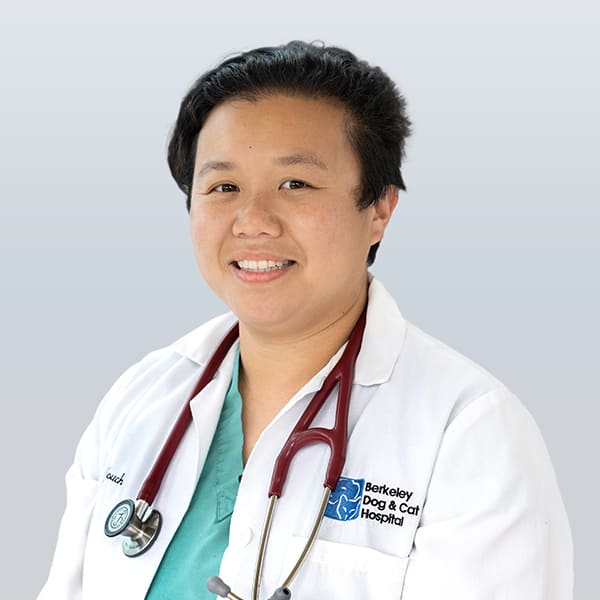 Dr. Y. Moi Kouch
Dr. Kouch is an Emergency Veterinarian and the Medical Director for Berkeley Dog and Cat Hospital.
Dr. Kouch was born and raised in Los Angeles and completed her undergraduate studies at UCLA. Prior to veterinary school, she spent time working at the Oregon Zoo, the Oakland Zoo, and at the San Francisco SPCA. She then completed her veterinary degree at Michigan State University. During veterinary school, Dr. Kouch was president of the surgery club and also served as an officer of the integrative medicine club. During the summers, she had the opportunity to work on research at Stanford University working on traumatic brain injury and its effect on pain threshold in rats, and the following summer on the long-term effects on the gut's microbiota after Toxoplasma gondii infection in mice. During veterinary school she was awarded the Arthur D. Marosi Surgery award. Afterwards, Dr. Kouch was eager to return to California and wanted to improve her skills and knowledge by completing a rotating internship at East Bay Veterinary Specialists and emergency in Walnut Creek. There, she was able to work side by side with specialists in internal medicine, neurology, surgery, and emergency and critical care. She gained experience in surgery, diagnostic ultrasound, and enjoyed the variety of cases seen on emergency.
In her free time, Dr. Kouch enjoys outdoor activities including camping, kayaking and hiking with her two dogs. She also enjoys bouldering. She has two dogs, Otis and Bam Bam, Milo the cat, and a red-eared slider named Bailey.